Serving Southwest Missouri and the Four-State Area since 1949
Aggregate Base
Construction
Your new pavement surface is only as good as the foundation beneath it. We have dedicated preparation crews, not dirt contractors, who specialize in aggregate base construction. Every job is prepared with the goals of proper stabilization, elevation, and final surface installation in mind. At Blevins Asphalt, we've been building excellent foundations for over fifty years.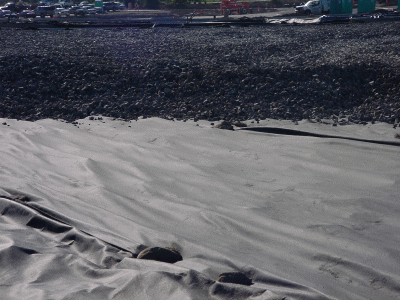 Technology affords a myriad of choices for strengthening and reinforcing your pavement structure, provided your contractor has the skills and equipment necessary to utilize them. From aggregate base separator fabric to geogrid to pavement overlay fabric, we have the geotextile solution your project requires.
Hot Mix Asphalt
Installation
Hot mix asphalt installation is the backbone of operations at Blevins Asphalt. With state of the art production facilities and expertise that comes from years of experience, Blevins Asphalt is the premier paving contractor in the four state area. From Kansas City to Bentonville and Big Cabin, from Rolla to Parsons, see why we've been the best since 1949.
When your project requires a provisional surface or dust control, chip and seal surfacing may be the answer. No one has been doing it better or longer than Blevins Asphalt. And if limestone chips don't meet your aesthetic qualifications, we can provide decorative chips to suit any landscaping motif.
Blevins Asphalt offers a number of asphalt products directly to the consumer. Hot mix asphalt, cold mix asphalt, crushed limestone, and a variety of MC grade oil products. Contact us to see what's available in your area.
At Blevins Asphalt, we work with a number of vendors and subcontractors every day. This allows us to offer all of the products and services you need for a turnkey project. Excavation, utilities, wheel stops, signage, coal tar emulsion sealing, pavement marking, and anything else you might need to finish the job is now at your fingertips with a single phone call. Contact Blevins Asphalt today and let us put together a paving solution that suits all your needs.
Hot mix asphalt can be purchased and ordered by independent contractors and individuals. We also sell to city, county, and state governments. Delivery to the jobsite is also available